MotoDirect Distributes Arai Car Helmets in the UK
Arai Car Helmets
In 1937 Arai was founded by Hirotake Arai and a factory was established in the city of Ohmiya which started by manufacturing headgear. Hirotake was a hat maker but also an enthusiastic rider and his aim was to produce safe head gear.
Hirotake was from Japan and in the fifties, there were no helmet manufactures in the country as it was a closed market so it was difficult to obtain a well-made and safe helmet. There were no legal standards and no manufacturers but Hirotake wanted to produce safe headwear for both himself and a couple of friends and so Arai was formed as a manufacturing business.
Because of japan being a closed market Hirotake had to develop his own testing standards and testing equipment as no legal standards existed, from being a hat maker he was aware that people have different heads which made him aware that he needed to create a helmet with a perfect fit.
Hirotake's image wasn't to create a commercial business but to create helmets that would protect both himself and his fellow riders and this is still the drive that Arai as a company have followed to this day.
In 1984 Arai started its sponsorship with formula one drivers such as Keke Rosberg and by the season of 1986 – 1987 26 out of the 28 formula one drivers were wearing Arai helmets.
In 2005, the rules in formula one changed and all riders had to wear a carbon fibre helmet for their safety due to this Arai introduced its first carbon fibre helmet the GP-5 racing carbon that was only available for formula one drivers. Three years later Arai introduced a carbon fibre car helmet for commercial use into their range this was named the GP-6 Racing Carbon.
The Arai car helmet range consists of seven different models that can be used for a variety of car sports including Formula one, karting and rally driving
Model: CK-6
The CK-6 is a lightweight full face helmet that features an SFL outer shell making it a perfect fit on children's heads. It has four ventilation ducts on top of the helmet with effective twin ventilation slots in the chin bar. This helmet is designed specifically to meet the shape and requirements of children's head which makes this the ideal car helmet for children.
Sizes available: XXS-L
Price: £379.99
Model: SK-6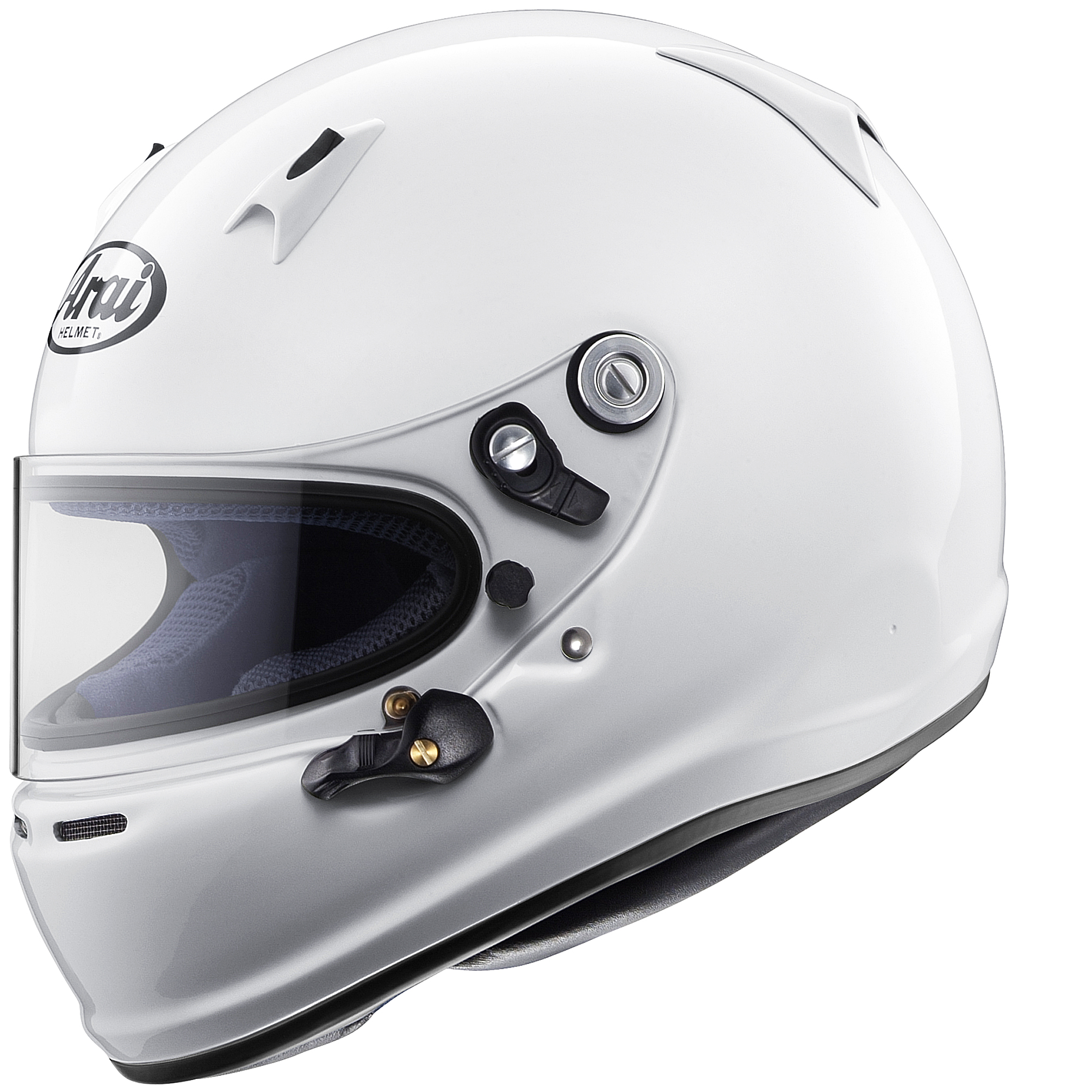 The SK-6 is a helmet specifically designed for kart racing. The CLC outer Shell features extensive ventilation ducts and offers the improved visor system. This karting helmet also provides more peripheral vison for the drivers as it has a wider eye port.
Sizes available: XS-XL
Price: £479.99
Model: GP-5W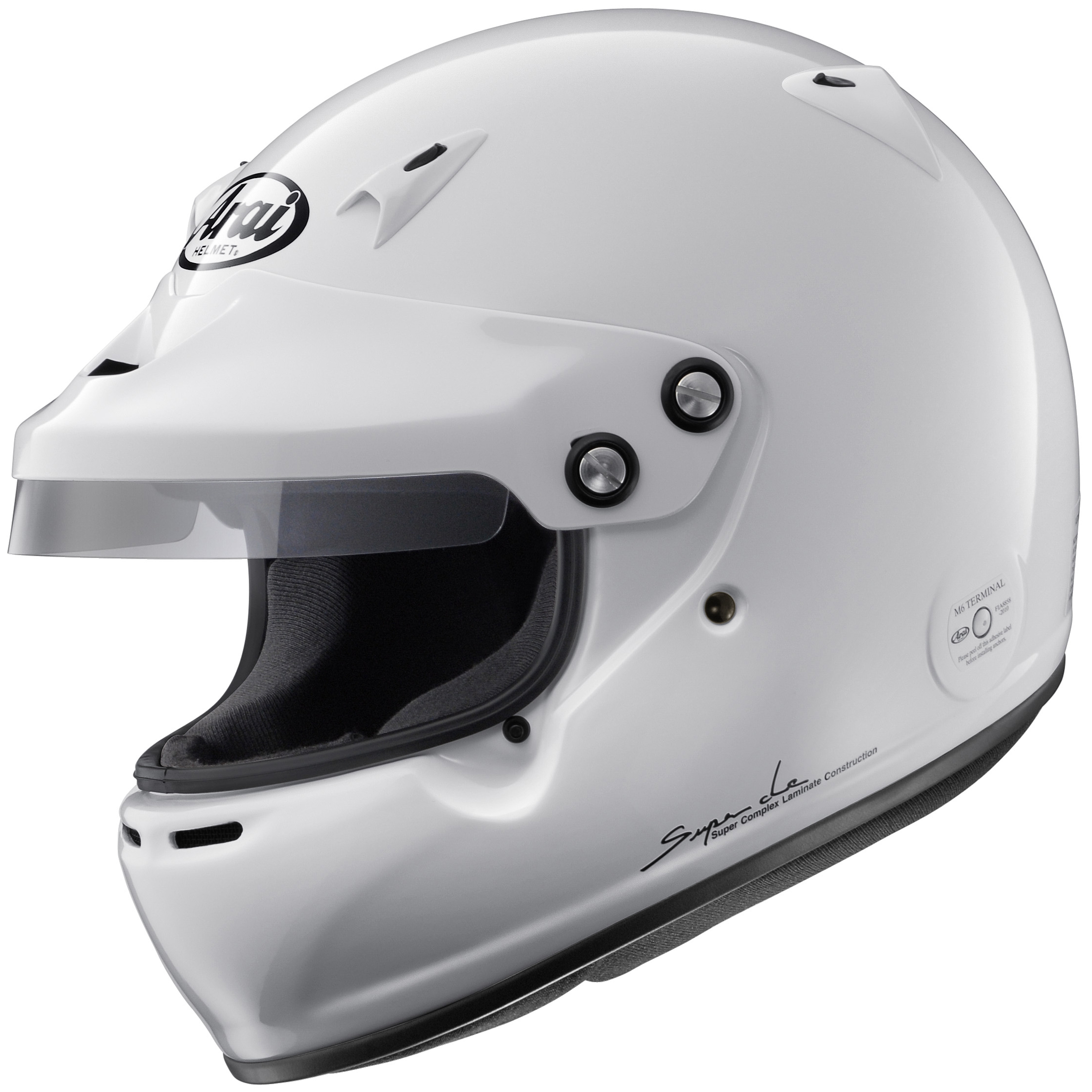 The GP-5W is an all-round great car racing helmet which comes without a visor but with the adjustable 'Hyper T' peak with integrated sun visor. It has an SCLC outer shell with 5mm added chin area space for more comfort.
Sizes available: XS-XL
Price: £719.99
Model: GP-6 PED
The GP-6 PED car helmet has a SCLC outer shell and has PED spoilers that offer added stability and resistance against buffeting. The kit also increases the ventilation by directing more air into the ventilation slots at the front of the helmet.
Sizes available: XS-XL
Price: £1,379.99
Model: GP-6 RC
The GP-6 RC has a carbon fibre shell and incorporates the best Arai technology. This lightweight carbon race helmet is perfect for drivers competing in sports such as formula one where the stringent FIA 8860-2010 regulations apply. The flexibility on this helmet means that on impact the helmet will not splinter or shatter like other standard carbon fiber helmets are known to do proving that safety is at the forefront of Arai's mind.
Sizes available: XS-XL
Price: £2,999.99
Model: GP-6S
The GP-6S car racing helmet has a CLC outer shell and has features such as a larger eye port for increased prophetical vision, larger duct ventilation holes and a fire-resistant lining which makes this model similar to the GP-6 RC but at a more affordable price.
Sizes available: XS-XL
Price: £719.99
Model: GP-J3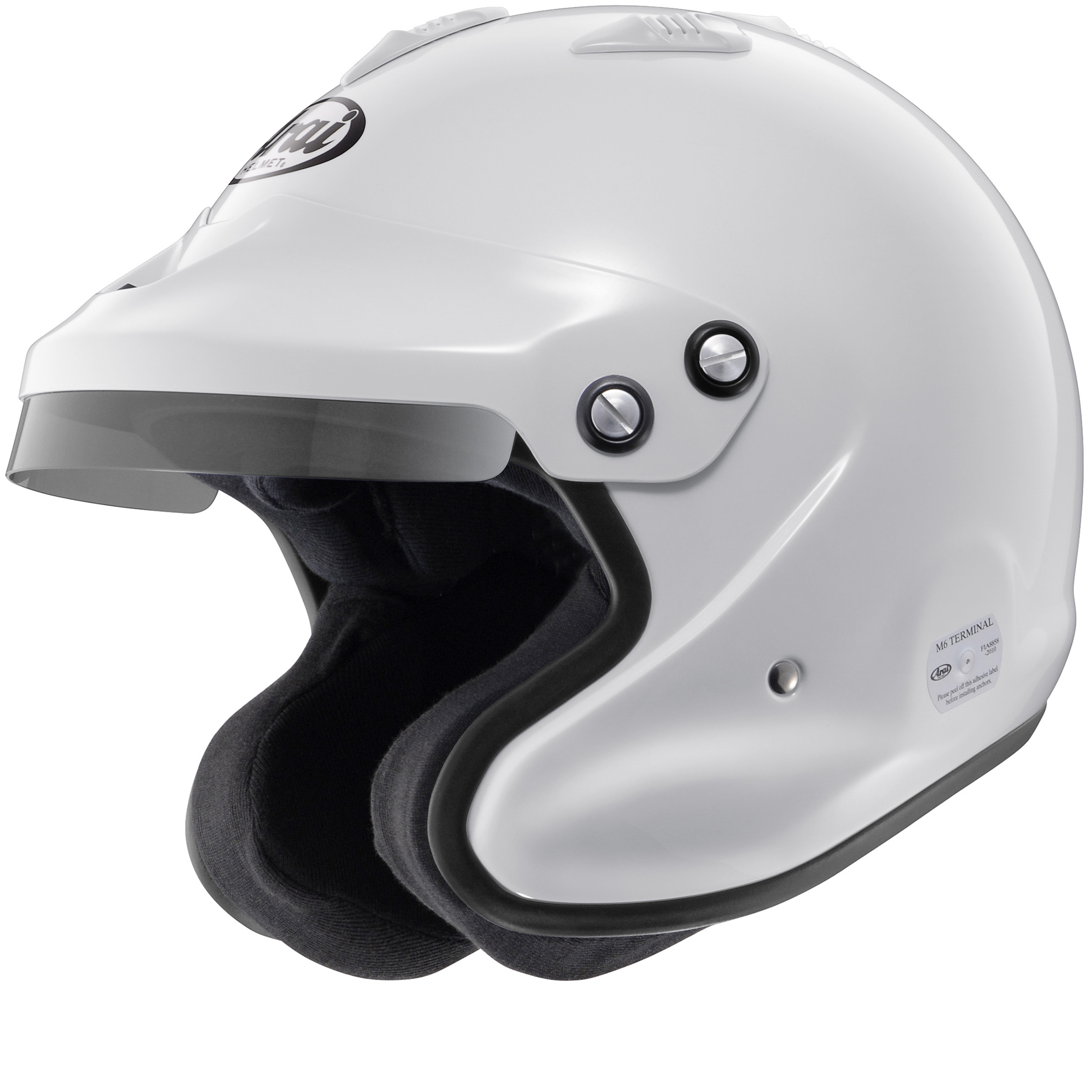 The GP-J3 open face car helmet has a new shell construction with extended cheek and chin area as well as having Four ventilation ducts which makes this helmet Perfect for closed cockpit car racing. The best rally helmet in the UK for sure!
Sizes available: XS-XL
Price: £479.99